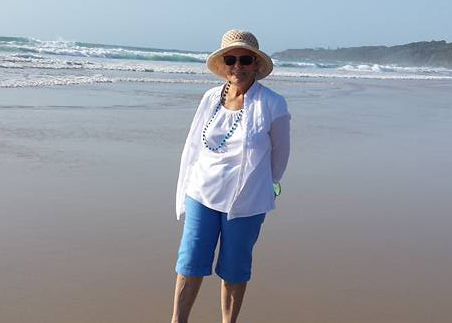 Attacking the body's moisture-producing glands such as tear and salivary glands, Sjögren's Syndrome causes painful dryness in the eyes and throat that often leaves Wilma unable to see. The implications can be debilitating on a person's social life and ability to work.
Sjögren's dictates Wilma's ability to do normal activities such as visiting a store with air-conditioning, taking a swim in the ocean, eating a meal with friends, or even the ability to have a normal night's sleep.
"I need to use eye drops every 3-4 hours or I cannot see. It is very frustrating when I need to go to the bathroom in the middle of the night and can't find my eye drops," says Wilma, who admits she tries desperately to open her eyes sometimes, only to realise that her eyes are open and the dryness has blurred her vision.
Wilma has passed out several times while eating dinner due to the lack of saliva in her throat, preventing food and even water from passing through and inhibiting her ability to breathe.
While there's no known cause of Sjögren's, there is also no cure. The relatively common autoimmune disease is estimated to affect 0.5% of the population with females predisposed to the condition at a ratio of 9:1.
But there is hope on the horizon for Wilma and other sufferers, as Queensland Eye Institute Ophthalmologist Dr Brendan Cronin and fellow researcher Dr Allison Sutherland gear up for a clinical trial set to take place in May that will see stem cells from human placental tissue trialled as a treatment for Sjögren's Syndrome right here at the Queensland Eye Institute.
This world-first clinical trial will see 30 Sjögren's Syndrome sufferers given stem cells from a placenta to modify the abnormal activity of their immune system and determine if the treatment helps enable the regeneration of these moisture-producing glands. These stem cells have been used experimentally over the last 30 years to regenerate tissue, and to modulate acute and chronic inflammatory conditions, it is our belief that these powerful cells could provide long-term relief for those with Sjögren's Syndrome.
Dr Sutherland and Dr Cronin have worked closely with the Wesley Hospital maternity ward and collaborating with Wesley Medical Research to engage women who may be interested in donating their placental tissue. Following a wide range of testing to ensure that the tissue collected meets the strict quality control requirements for manufactured biological (cell therapy) products, the cells will then be harvested and grown for the clinical trial.
Following this, 30 Sjögren's Syndrome sufferers will be given the treatment. The cells are administered through a saline drip at two six month intervals, with patients monitored for the subsequent 12 months. The results of the study are expected six months after the trial is completed.
Although it is early days, we are all excited at the prospect of being able to help patients just like Wilma. Sjögren's Syndrome is not a common condition, but it is a condition that has a detrimental impact on the lives of those diagnosed with it. With the study expected to cost more than half a million dollars, and receiving no government funding, we would love you to support our research.
We aim to raise online $100,000.00 to help fund this revolutionary research.
With your help of a tax-deductible donation* today, large or small, we could make this a reality.