In February Flinders University and the Queensland Eye Institute Foundation (QEIF) formed a new partnership to create a world-first international registry for vitreoretinal lymphoma. Today, with a new grant, co-funded by Flinders Foundation and QEIF, this registry can be expanded.
Collecting medical information can mean improvements in treatments of this rare eye cancer. Using the registry will allow the researchers to understand how this cancer affects the vision and the outcomes of different types of treatment. Ten countries are already contributing to the project.
Vitreoretinal lymphoma, affecting less than one Australian per million, is difficult to diagnose and often progresses rapidly to involve the brain. Current treatment approaches vary and include chemotherapy, radiotherapy and stem cell transplantation, but there remains a very low survival rate.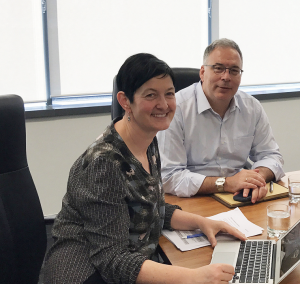 Professor of Eye and Vision Health at Flinders University, Professor Justine Smith explains, "This is an ambitious and important project and we are very grateful for the generous funding. It is not easy to run clinical trials for rare diseases and we know a registry approach will be highly effective in giving us an understanding of how doctors are diagnosing and managing the condition around the world. In building the registry, we hope to establish the most effective therapies for those who are affected by vitreoretinal lymphoma."
Professor Mark Radford from QEI adds: "We are proud of this collaboration with the Flinders Foundation.  We are really excited to be working with Professor Justine Smith and her team on this important project.  Improved patient outcomes is something we are all working towards.  Registries like this make a huge difference to patient care."