Spring is a time when many of us think about eating healthy food and getting back into shape, ready for summer. At the Queensland Eye Institute, over the past month, we have been focusing on 'Healthy Eating for Healthy Eyes'.
We may be well-versed in knowing what to eat to keep our cholesterol down but we may be less aware on what to eat to keep our eyes healthy. Eating the right foods and those high in antioxidants can help slow down or prevent some types of eye disease:
Macular degeneration
Diabetes
Retinitis pigmentosa
Stargardt disease
Cone rod dystrophies
Retinal vein occlusion
Dry eye
Cataracts
Many of our staff have been busy in their kitchens over the past month making meals which include some of the below food groups:
Nuts & Seeds: walnuts, almonds, hazelnuts, Brazil nuts, chia seeds, sunflower seeds (Vitamin E & Selenium)
Brightly-coloured fruit: citrus fruit, berries, kiwi fruit (Vitamin C)
Brightly-coloured vegetables: yellow capsicums, pumpkins, tomatoes (Vitamin C)
Leafy greens: spinach, kale, silver beet, broccoli, peas (Lutein and Zeaxanthin)
Cold water fish: trout, sardines, salmon (Omega-3)
Some of our top recipes include:
Serves: 4 Prep Time: 20 minutes Cook Time: 2 – 5 minutes
Thanks to Kim for sharing this recipe!
INGREDIENTS:
1 small yellow capsicum, cored and thinly sliced and cut slices in half
100g baby rocket, washed and trimmed
¼ cup pinenuts, toasted
1 small head radicchio, halved, cored and thinly sliced about 1 ¼ cups
1 small jar marinated artichoke hearts, drained and halved
½ cup pitted Kalamata olives (these may be added onto individual plates if preferred)
1 500g pack fresh cheese & spinach tortellini
1 small packet feta cheese, crumbled
VINAIGRETTE:
1 small clove garlic, crushed
4 small shallots, finely chopped
1 – 2 medium lemons, squeezed until you have 3 tablespoons of juice.
2 tablespoons olive oil
½ teaspoon Dijon mustard
½ teaspoon salt
¼ teaspoon freshly ground black pepper
METHOD:
Bring a large pot of salted water to the boil.
Meanwhile prepare the vinaigrette by whisking all the ingredients in a small bowl.
Prepare all the other salad ingredients in a large bowl leaving the feta cheese until after the tortellini has been added.
Pour over the vinaigrette and mix well.
INGREDIENTS
2 small fennel bulbs—halved, cored and thinly shaved
2 blood oranges
8 tablespoons fresh blood orange juice
1 cup extra-virgin olive oil
Rock Salt
Freshly ground pepper
12 large sea scallops
1 teaspoon fennel pollen
2 tablespoons unsalted butter
1/4 cup sliced black olives
1/4 cup unsalted roasted pistachios
METHOD
1. In a large bowl, soak the fennel in ice water. Peel the blood oranges with a sharp knife, being sure to remove all of the bitter white pith. Working over a bowl, cut in between the membranes to release the sections. Season the scallops with salt and pepper and rub with the fennel pollen.
2. In a medium bowl, whisk the 8 tablespoons of blood orange juice with 1/4 cup of the olive oil and season with salt and pepper. Drain the fennel and pat dry. Add it to the dressing and toss to coat.
3. In a large frying pan, heat the remaining 3/4 cup of oil until shimmering. Add the scallops to the skillet and cook over high heat until browned on the bottom, about 3 minutes. Add the butter to the frying pan. Turn the scallops over and cook just until white throughout, 2 minutes longer. Set the scallops on the fennel salad. Scatter the olives, pistachios and orange sections all around and serve.
Thanks to Atanu for sharing this recipe!
Grilled Lime Salmon with Avocado-Mango Salsa and Coconut Rice
With the recent warm weather, this grilled lime salmon with mango avocado salsa & coconut rice looks even more appetizing.
Many of the ingredients; lime (Vitamin C), salmon (Omega-3), avocado (high in lutein) and mango (vitamin A, lutein and zeaxanthin) are good for your eyes.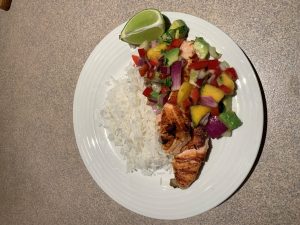 INGREDIENTS
Salmon fillets
Olive oil
Garlic
Mango
Capsicum
Red onion
Avocado
Cilantro
Coconut water
Canned coconut milk
Jasmine rice
Lime
Thanks to Johanna for sharing this recipe from Cooking Classy.