Clinical Trials give hope to so many people. Giselle is currently sixth months into a clinical trial for her vision loss. Keen to be 'part of the solution' Giselle has an energetic thirst for life and has hope her vision may be restored in some capacity from what can be learnt in clinical trials.
Born in Germany in 1944, Giselle had diphtheria as a baby which left her with problems in her eyes. It was when she was 4 years old that her parents noticed that she was not able to read as well as before. At that time, she was far sighted which developed in her life to up to +6 correction. She wore glasses as a child then as she grew older changed to thick contact lenses. After graduating in Economics from the University of Cologne, she had an interesting career travelling the world and working in senior management for leading FMCG companies.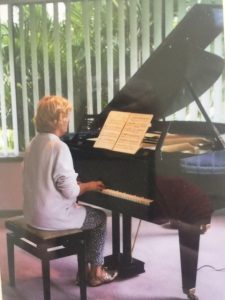 Throughout her life, Giselle has had a number of eye operations. It was after cataract treatment in 2001 that her vision was corrected and she was left with a vision of -1.25. With such excellent vision she was able to read, drive a car and live independently for the next 11 years until an Ophthalmologist noticed that in both eyes she had developed dry eye macular degeneration. However, her vision was unaffected until December 2015 when she noticed a drastic change in her right eye as a result of the dry macular degeneration turning into wet macular degeneration. This was treated in Germany with three consecutive injections and when she returned to Australia there was further treatment.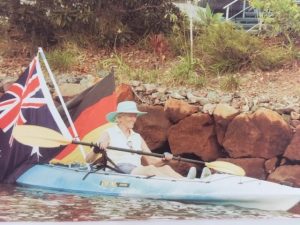 Giselle has wet macular degeneration in the right eye and dry macular degeneration in the left as well as optical damage due to a virus infection in this eye. As a result her vision has deteriorated slowly and today it is hard for Giselle to see contrasts. Describing her vision loss, she says, "It is border line. I can still deal with emails. I can read and have some aides and I can read small print better than large print. My peripheral vision is ok but it is the central vision which is affected."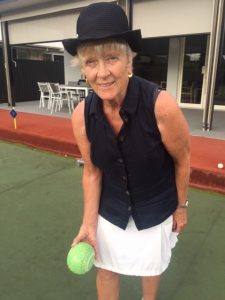 Giselle leads an active life; gardening and kayaking. Living near the water, she loves to be outside. She also enjoys bowling which can be challenging when she cannot consistently see the path of the bowl as it heads away from her on the lawn. She plays piano having started to learn from the age of eight. Although she can play from her memory, unfortunately due to her vision loss, Giselle cannot play from the music sheet anymore as she cannot see all the notes which is a big loss for her.
Not intent on just sitting still and waiting for something to happen, Giselle began researching for a solution. She discovered Professor Robert MacLaren in Oxford who had a breakthrough in treating dry macular degeneration with synthetic gene activated by a virus with one patient. Unfortunately, with COVID restrictions, Giselle was not able to travel to the UK to meet him and find out about his work. However still keen on being part of the solution, Giselle came to the Queensland Eye Institute and then learnt about the clinical trials.
For Giselle, research gives her hope to see again. She has been involved in the clinical trial since October and it will run for 6 months. Although, at the time of writing, there had not been any noticeable change, Giselle still believes there is progress as "as we know what we don't need to do, which brings us forward." Giselle remains so positive and believes if more people were involved in trials it would increase hope for many more. Describing the Queensland Eye Institute as her eye family, Giselle is passionate about wanting to help bring the world forward and help find a solution. In her case, hoping to stop the progression of dry macular degeneration and save her sight.